ANT CONTROL
Select your category

General Pest Control
Targeted Pest Treatments
Rodent Control Services
Wildlife Control Services

Select your service

One-Time
Monthly
Bi-Monthly
Quarterly
Ants
Bed Bugs
Fleas
Hornets
Mosquitoes
Roaches
Spiders
Termites
Ticks
Wasps
Not Sure / Not Listed
Mice
Rats
Not Sure / Not Listed
Armadillos
Bats
Birds
Dead Animal Removal
Groundhogs
Moles
Opossum
Raccoons
Skunks
Squirrels

How big is your house?

0 – 1000 sq ft
1001 – 2000 sq ft
2001 – 3000 sq ft
3001 – 4000 sq ft
Greater than 4000 sq ft
0 – 1000 sq ft
1001 – 2000 sq ft
2001 – 3000 sq ft
3001 – 4000 sq ft
Greater than 4000 sq ft
0 – 1000 sq ft
1001 – 2000 sq ft
2001 – 3000 sq ft
3001 – 4000 sq ft
Greater than 4000 sq ft
0 – 1000 sq ft
1001 – 2000 sq ft
2001 – 3000 sq ft
3001 – 4000 sq ft
Greater than 4000 sq ft
0 – 1000 sq ft
1001 – 2000 sq ft
2001 – 3000 sq ft
3001 – 4000 sq ft
Greater than 4000 sq ft
1 Room
2 Rooms
3 Rooms
4 Rooms
5 + Rooms
0 – 1000 sq ft
1001 – 2000 sq ft
2001 – 3000 sq ft
3001 – 4000 sq ft
Greater than 4000 sq ft
Outside | 1st Floor
Outside | 2nd Floor
Inside | 1st Floor
Inside | 2nd Floor
1/4 Acre
1/2 Acre
3/4 Acre
1 Acre or More
0 – 1000 sq ft
1001 – 2000 sq ft
2001 – 3000 sq ft
3001 – 4000 sq ft
Greater than 4000 sq ft
0 – 1000 sq ft
1001 – 2000 sq ft
2001 – 3000 sq ft
3001 – 4000 sq ft
Greater than 4000 sq ft
0 – 1000 sq ft
1001 – 2000 sq ft
2001 – 3000 sq ft
3001 – 4000 sq ft
Greater than 4000 sq ft
0 – 1000 sq ft
1001 – 2000 sq ft
2001 – 3000 sq ft
3001 – 4000 sq ft
Greater than 4000 sq ft
Outside | 1st Floor
Outside | 2nd Floor
0 – 1000 sq ft
1001 – 2000 sq ft
2001 – 3000 sq ft
3001 – 4000 sq ft
Greater than 4000 sq ft
0 – 1000 sq ft
1001 – 2000 sq ft
2001 – 3000 sq ft
3001 – 4000 sq ft
Greater than 4000 sq ft
0 – 1000 sq ft
1001 – 2000 sq ft
2001 – 3000 sq ft
3001 – 4000 sq ft
Greater than 4000 sq ft
0 – 1000 sq ft
1001 – 2000 sq ft
2001 – 3000 sq ft
3001 – 4000 sq ft
Greater than 4000 sq ft
Light | (1-2)
Medium | (3-4)
Heavy | (5 or more)
Not Sure
Light | (1-2)
Medium | (3-4)
Heavy | (5 or more)
Not Sure
Light | (1-2)
Medium | (3-4)
Heavy | (5 or more)
Not Sure
Small (1-20 lbs)
Large (20lbs or more)
Not Sure
1/4 Acre
1/2 Acre
3/4 Acre
1 Acre or More
1/4 Acre
1/2 Acre
3/4 Acre
1 Acre or More
Light | (1-2)
Medium | (3-4)
Heavy | (5 or more)
Not Sure
Light | (1-2)
Medium | (3-4)
Heavy | (5 or more)
Not Sure
Light | (1-2)
Medium | (3-4)
Heavy | (5 or more)
Not Sure
Light | (1-2)
Medium | (3-4)
Heavy | (5 or more)
Not Sure

Continue for Pricing

→
Our Ant Control & Removal Service
---
Ants are one of the most common pests in Northwest Arkansas. Depending on weather condtions they can be a problem year round. The more common ant that our customers see is the odorous house ant. Its the small black or brown ants that are usually found near entryways, kitchen, window sills, or bath tubs and bathroom counters. They're social insects looking for food, water, and shelter.
Some other common ants in Northwest Arkansas are Carpenter Ants, Pharoah Ants, and Odorous House Ants(sugar ants).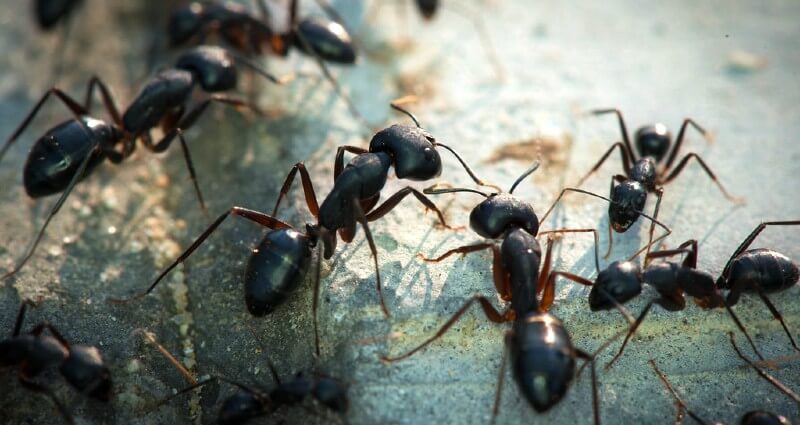 Our Unique Approach To Ant Control & Removal Service
Due to the social nature of ants Defender Pest Control has an entirely different treatment specifically set up with gel baits, and non repellent products, and granules in the yard for ants to pick up and take back to the colony. It's a highly effective treatment that we've received praise from customers recently as its heated up that not only took care of their ant problems last summer but kept them gone this spring.
1. ANT INSPECTION
We'll perform a thorough inspection in and around your home. Inside, we'll inspect all carpet edges, doors, windows, and your kitchen. Outside, we'll check your foundational walls, plus areas of vegetation and mulch.
2. INTERIOR ANT TREATMENT
We'll place professional ant baits in areas of activity and trails. Ants feed on this bait and take pieces back to the queen, killing the entire colony. Next, we will apply a liquid non-repellant ant product around the points of entry. This approach ensures the whole ant nest is eliminated.
3. EXTERIOR ANT TREATMENT
First, we'll carefully apply a non-repellent insecticide barrier around the perimeter and entry-points of your home. Next, we'll place ant bait around nesting sites and trails to encourage feeding and ensure colony elimination.
Why Choose Defender Pest Control
We're passionate about helping people just like you get rid of unwanted pest problems. As such, we are proud to be the only pest control company in Bentonville, AR promising excellence in value, service, and trust.
Frequently Asked Questions
Ants invade homes looking for food and water. So if you leave dirty dishes in the sink, food residue on your counters, or crumbs on the floor, you're essentially inviting meal-seeking ants into your home. This becomes a problem when those ants set up their nests in your walls, on your lawn, and around your home's foundation.
Ant infestations are a pretty big deal. One of the biggest problems related to ants is food contamination. Ants carry bacteria on their bodies, which spreads when they crawl in your sink and across your countertops. Now, only a few ant species carry insect-borne diseases, but finding any ants in your home is an unpleasant surprise.
To get your ant problem under control, a proper inspection is your very first step. This allows us to design a unique program for your specific situation. So please give us a call at 479-343-1297 to schedule your ant inspection. Our team is thoroughly trained in eliminating ant colonies and will keep these pests where they belong: out of your business and home.
Get $50 OFF Initial Pest Control Treatment
Mention coupon to redeem.
CALL TO CLAIM
Or dial 479-343-1297
Ant Control
CALL FOR PRICING
Ant Inspection
Interior Ant Treatment
Exterior Ant Treatment
Satisfaction Guaranteed
Or dial 479-343-1297
To get rid of ants, call 479-343-1297 today!
WHAT OUR CUSTOMERS HAVE TO SAY
---

Great family-owned and local business! We have been customers since day one! They are always so nice and take care of all our requests. They offer a variety of services that fit our needs! Especially since we live out in the woods. Again, great people and great business! Would recommend them to anyone looking for a pest control service!
– Nicole D. in Bentonville, AR

I'm a big believer in supporting local and family owned businesses. After researching pest control businesses, I decided to call Defender Pest Control, and I'm very happy I did! My initial phone call was pleasant and professional. During the inspection, the same! Friendly, courteous, and professional! Answered my questions in detail. When it's time for us to do some preventative service, THE only company I will call is Defender Pest Control!
– Jean M. in Bentonville, AR

What a great crew these folks have!  So respectful and professional!  They took care of our problem multiple times.  Both times we had different people (Nate and Bobby).  They were so humble and knew their stuff.  They gave us pointers on preventative measures for the future.  I am very grateful to them for resolving our pest situation.
– Santosh K. in Bentonville, AR
Previous
Next
5.0 Star Rating ★★★★★
176+ Reviews

4.5 Star Rating ★★★★☆
6+ Reviews
4.8 Star Rating ★★★★★
29+ Reviews
4.9 Star Rating ★★★★★
29+ Reviews