BED BUG CONTROL
Select your category

General Pest Control
Targeted Pest Treatments
Rodent Control Services
Wildlife Control Services

Select your service

One-Time
Monthly
Bi-Monthly
Quarterly
Ants
Bed Bugs
Fleas
Hornets
Mosquitoes
Roaches
Spiders
Termites
Ticks
Wasps
Not Sure / Not Listed
Mice
Rats
Not Sure / Not Listed
Armadillos
Bats
Birds
Dead Animal Removal
Groundhogs
Moles
Opossum
Raccoons
Skunks
Squirrels

How big is your house?

0 – 1000 sq ft
1001 – 2000 sq ft
2001 – 3000 sq ft
3001 – 4000 sq ft
Greater than 4000 sq ft
0 – 1000 sq ft
1001 – 2000 sq ft
2001 – 3000 sq ft
3001 – 4000 sq ft
Greater than 4000 sq ft
0 – 1000 sq ft
1001 – 2000 sq ft
2001 – 3000 sq ft
3001 – 4000 sq ft
Greater than 4000 sq ft
0 – 1000 sq ft
1001 – 2000 sq ft
2001 – 3000 sq ft
3001 – 4000 sq ft
Greater than 4000 sq ft
0 – 1000 sq ft
1001 – 2000 sq ft
2001 – 3000 sq ft
3001 – 4000 sq ft
Greater than 4000 sq ft
1 Room
2 Rooms
3 Rooms
4 Rooms
5 + Rooms
0 – 1000 sq ft
1001 – 2000 sq ft
2001 – 3000 sq ft
3001 – 4000 sq ft
Greater than 4000 sq ft
Outside | 1st Floor
Outside | 2nd Floor
Inside | 1st Floor
Inside | 2nd Floor
1/4 Acre
1/2 Acre
3/4 Acre
1 Acre or More
0 – 1000 sq ft
1001 – 2000 sq ft
2001 – 3000 sq ft
3001 – 4000 sq ft
Greater than 4000 sq ft
0 – 1000 sq ft
1001 – 2000 sq ft
2001 – 3000 sq ft
3001 – 4000 sq ft
Greater than 4000 sq ft
0 – 1000 sq ft
1001 – 2000 sq ft
2001 – 3000 sq ft
3001 – 4000 sq ft
Greater than 4000 sq ft
0 – 1000 sq ft
1001 – 2000 sq ft
2001 – 3000 sq ft
3001 – 4000 sq ft
Greater than 4000 sq ft
Outside | 1st Floor
Outside | 2nd Floor
0 – 1000 sq ft
1001 – 2000 sq ft
2001 – 3000 sq ft
3001 – 4000 sq ft
Greater than 4000 sq ft
0 – 1000 sq ft
1001 – 2000 sq ft
2001 – 3000 sq ft
3001 – 4000 sq ft
Greater than 4000 sq ft
0 – 1000 sq ft
1001 – 2000 sq ft
2001 – 3000 sq ft
3001 – 4000 sq ft
Greater than 4000 sq ft
0 – 1000 sq ft
1001 – 2000 sq ft
2001 – 3000 sq ft
3001 – 4000 sq ft
Greater than 4000 sq ft
Light | (1-2)
Medium | (3-4)
Heavy | (5 or more)
Not Sure
Light | (1-2)
Medium | (3-4)
Heavy | (5 or more)
Not Sure
Light | (1-2)
Medium | (3-4)
Heavy | (5 or more)
Not Sure
Small (1-20 lbs)
Large (20lbs or more)
Not Sure
1/4 Acre
1/2 Acre
3/4 Acre
1 Acre or More
1/4 Acre
1/2 Acre
3/4 Acre
1 Acre or More
Light | (1-2)
Medium | (3-4)
Heavy | (5 or more)
Not Sure
Light | (1-2)
Medium | (3-4)
Heavy | (5 or more)
Not Sure
Light | (1-2)
Medium | (3-4)
Heavy | (5 or more)
Not Sure
Light | (1-2)
Medium | (3-4)
Heavy | (5 or more)
Not Sure

Continue for Pricing

→
Our Bed Bug Control & Treatment Services
---
Finding out you have bedbugs can be a scary thing. We can help you out. We provide comprehensive treatments to help eradicate the infestation. We offer both preventative quarterly services and remedial services.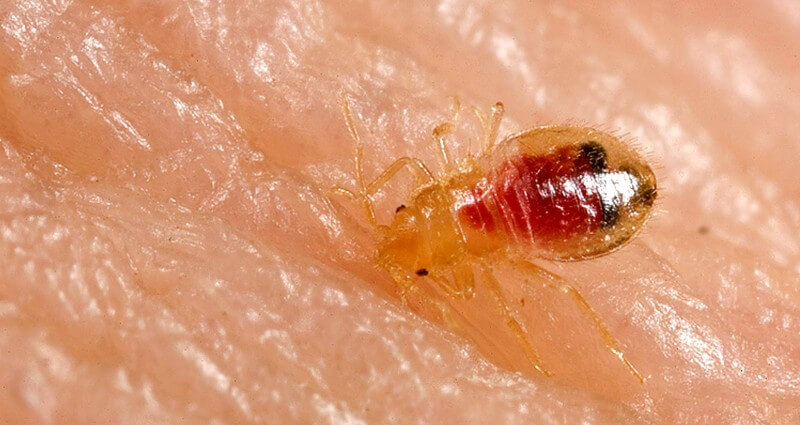 Our Unique Approach To Treating Bed Bugs
To an untrained eye, spotting a bed bug infestation can prove to be difficult. And, if you discover bed bugs in your home, do-it-yourself remedies and over-the-counter solutions are often ineffective. The highly-trained team at Defender Pest Control will assess your situation, implement a solution, and monitor activity to ensure our bed bug treatment works.
1. BED BUG INSPECTION
We'll perform a thorough inspection checking your mattress, box spring, bed frame, head/footboards, walls, and carpet in the affected room. We'll also check adjoining rooms just to be sure. This step helps us determine the severity of the bed bug infestation and how many rooms are affected.
2. PREPARATION CHECKLIST
We'll share a preparation checklist with you before we perform your bed bug treatment. It includes, but is not limited to, the following items: reduce clutter, launder infested garments and lines, dismantle bed frames, remove dresser drawers, and clean the area. You must complete the items on this list before we treat your home. This step will drastically increase the effectiveness of your bed bug treatment.
3. VACUUM TREATMENT
We'll use a specialized vacuum to capture unsuspecting bed bugs and remove any eggs, exoskeletons, or molted skin they've left behind in your home. A good vacuum cleaning job not only removes bed bug particles but also encourages greater insecticide penetration.
4. Product APPLICATION
We'll carefully apply a combination of liquid, aerosol, and dust in the affected room(s). Not only will we treat your mattress, but we'll also target your baseboards and furniture (nightstands, chests, dressers, couches, and chairs).
5. Follow-Up Inspections
We'll come back out every 2 weeks to inspect and treat again(if necessary). Once you have passed two of these 2-week inspections without any new bedbug evidence, then we have successfully eliminated the bedbug infestation in your home.
Why Choose Defender Pest Control
We're passionate about helping people just like you get rid of unwanted pest problems. As such, we are proud to be the only pest control company in Bentonville, AR promising excellence in value, service, and trust.
Frequently Asked Questions
Get $50 OFF Initial Pest Control Treatment
Mention coupon to redeem.
CALL TO CLAIM
Or dial 479-343-1297
Bed Bugs Control
CALL FOR PRICING
Family Friendly Treatments
Safe For Your Family
Doesn't Damage Furniture
Or dial 479-343-1297
To get rid of bed bugs, call 479-343-1297 today!
WHAT OUR CUSTOMERS HAVE TO SAY
---

Great family-owned and local business! We have been customers since day one! They are always so nice and take care of all our requests. They offer a variety of services that fit our needs! Especially since we live out in the woods. Again, great people and great business! Would recommend them to anyone looking for a pest control service!
– Nicole D. in Bentonville, AR

I'm a big believer in supporting local and family owned businesses. After researching pest control businesses, I decided to call Defender Pest Control, and I'm very happy I did! My initial phone call was pleasant and professional. During the inspection, the same! Friendly, courteous, and professional! Answered my questions in detail. When it's time for us to do some preventative service, THE only company I will call is Defender Pest Control!
– Jean M. in Bentonville, AR

What a great crew these folks have!  So respectful and professional!  They took care of our problem multiple times.  Both times we had different people (Nate and Bobby).  They were so humble and knew their stuff.  They gave us pointers on preventative measures for the future.  I am very grateful to them for resolving our pest situation.
– Santosh K. in Bentonville, AR
Previous
Next
5.0 Star Rating ★★★★★
176+ Reviews

4.5 Star Rating ★★★★☆
6+ Reviews
4.8 Star Rating ★★★★★
29+ Reviews
4.9 Star Rating ★★★★★
29+ Reviews